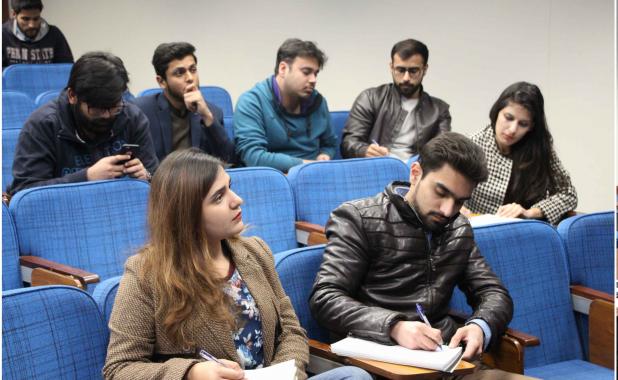 The Office of Alumni Relations held an Information Session for the Central European University (CEU) on the evening of Friday, December 22, 2017 to acquaint students and alumni with academic prospects at this institution in Hungary.
The gathering was led by LUMS alumnus, Dawar Hameed, BSc 2016, who is currently a senior year Master's student in the Department of International Relations at the Central European University (CEU). With a variety of students and alumni in attendance, all eyes were on Hameed as he took the floor to give an overview about the university, the programmes it offers, and the opportunities students can avail from it.
He shared that CEU is the second most international University in Hungary with 20 Pakistani students currently enrolled, and that it is trying to focus on acquiring even more. Giving details about the variety of academic schools and departments, Hameed expressed that while CEU has a reputation that is more positively inclined towards the sciences, it's International Relations and Public Policy programmes are also very highly ranked.
Aside from the vast range of academic options CEU offers, it is also a very welcoming environment for students from around the world, shared Hameed. He explained that people from different communities and with a different set of skills and experiences all attend CEU alike, and they have great options in terms of accommodation.
In the context of the LUMS undergraduate journey, Hameed conveyed that the LUMS degree is actually very useful for studying abroad at universities like CEU. He also said that there are far more areas of development in Europe than there are in South Asia, and that studying at CEU allows students to explore their own contexts and have their own experiences.
The evening ended with an interactive Q&A session, at the end of which Hameed shared his contact details with the alumni and students present and offered to help them in any way he could.