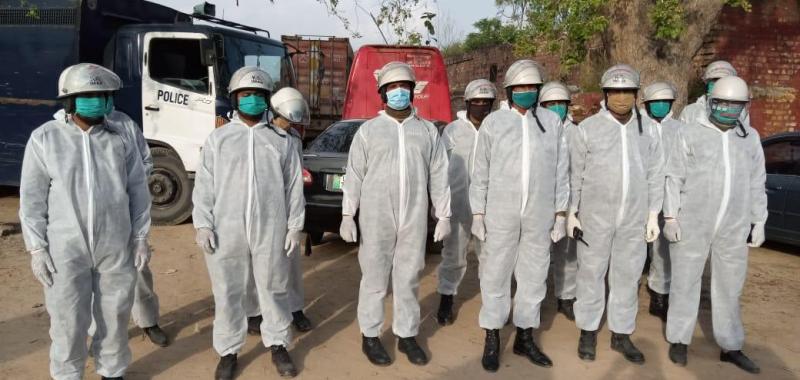 The SDSB Luminites Association has been working actively to aid the fight against Covid-19 in collaboration with SDSB Luminites Association Board member and CCPO, Lahore, Mr. Zulfiqar Hameed. Zulfiqar has been instrumental in highlighting the ground realities in the fight against Covid-19 and the resources required to ensure adequate protection for the front line workers and the most vulnerable members of society. President SDSB Luminites Association, Mr. Majid Munir said, "In unprecedented times like these, we should come together to give back to our society".
Two key initiatives undertaken include provision of protective gear for first responders and food ration packs for blue collar workers/daily wagers. Protective gear including Hazmat suits and face masks have been distributed to government authorities in Lahore, Attock, Rawalpindi and Multan. Additionally, food ration packs are now being distributed to individual families who have been economically hard hit by the lockdown imposed to contain the spread of Covid-19.
SDSB Luminites Association would like to thank the following partners having assisted us in the fight against Covid-19.
1. Procter & Gamble Pakistan's senior leadership, Mr. Khalid Ahmed Farid and Mr. Danish Shah for providing Safeguard antibacterial soaps in bulk at discounted rates;

2. GFC Fans COO, Mr. Nabeel Ilyas, providing the funds for procurement of soap from P&G.

3. BARD Foundation for joining hands for food ration distribution to 200 households.

4. Descon Chairman, Mr. Taimur Dawood, and CEO Descon OxyChem Limited, Mr. Imran Qureshi, for donating disinfectants to sanitize Lahore Police buildings.
SDSB Luminites Association's alumni network, friends and their families have donated approximately PKR 2.6 million. The SDSB Luminites Association is continuing to provide assistance as and when required.
With LUMS having launched its own COVID-19 Campaign to support students in need, staff facing medical emergencies and financial hardships, and the broader community from low-income households struggling to make ends meet, SDSB Luminites Association would like to encourage our alumni to come forward and support the LUMS COVID-19 initiative in whatever way they can.
Stay safe.