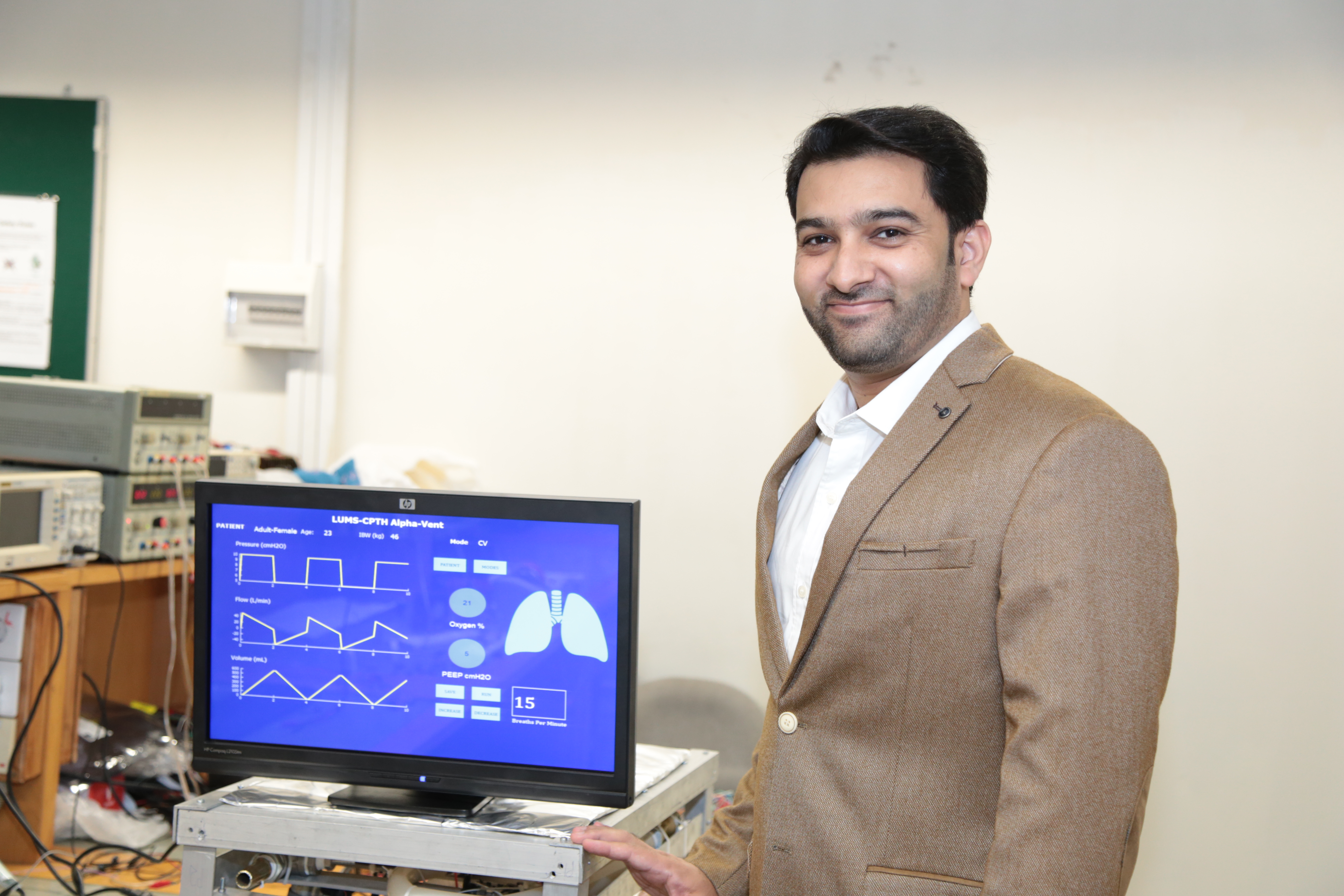 Research in the field of biomedical engineering is a field not often delved deep into in Pakistan. At LUMS, however, Dr. Farasat Munir, with his extensive research on the development of low-cost ventilators is proving the opposite. His reason for delving into this area of research is primarily due to the fact that in a country like Pakistan, which is not only on its way to prosper but to develop as well, is still stricken with a reasonably large shortage of high-end medical equipment like ventilators, which in today's age are a necessity.

Having witnessed this lack of resources in multiple hospitals himself, and seeing how often attendants are forced to manually hand pump air into patients, while also taking into account the deaths of several patients due to the unavailability of ventilators, he stresses on the unacceptability of such a situation in a city like Lahore. Keeping this situation in view, Dr. Munir embarked on designing a hospital scale ventilator in Pakistan, with many indigenous components, using local resources and expertise. Beginning this project with a group of his undergraduate students, he was able to develop a prototype, which was designed around the basic structure of an Ambu Bag (a medical ventilator bag which has to be pressed by hand). The said prototype, which housed an Ambu Bag, was automatic and pressed the Ambu Bag at fixed intervals to deliver air. The researchers, who have an insight into the inner workings of a ventilator, wholly provide this. The following year, Dr. Munir and his students built their second prototype, which interestingly was built around a Mitsubishi Pajero's air-intake blower, instead of an expensive commercial fan. This cheaper fan was beneficial as it delivers high-pressure air; a vital component, which helps, opens a patient's trachea. At this stage, Dr. Akhtar Sohail Chughtai, Dean of the Central Park Teaching Hospital (CPTH), saw the potential in the project and agreed to be the patron of the project. He arranged for funding via the CPTH and also appointed one of their best faculty members, Dr. Sadia Nasir as the medical consultant for the project.

Leveraging this medical expertise and the technical expertise gained from the design of two prototypes, Dr. Munir and his team designed and developed a full-scale hospital ventilator. The final design consists of biocompatible and highly reliable electrical and mechanical components, and a robust system, that fulfils the standard requirements of the critical medical equipment. The project is now ready to go into the testing phase, which will consist of running patient tests to finally ensure that the built ventilators can be safely used in hospitals. A team of medical doctors from CPTH will be facilitating and monitoring this process.
A hospital scale ventilator, if imported, can cost up to PKR 3 million. Large hospitals require multitudes of high-end equipment in large quantities and looking at the high costs, it is no surprise that there is a shortage of proper equipment in hospitals. If a ventilator is manufactured in Pakistan, the costs can be reduced to about PKR 0.2 million, with hardware costs going as low as PKR 150,000. Keeping this reason in consideration, Dr. Munir aims to develop his ventilator in Pakistan.

While the initial purpose of this project was based on an altruistic sentiment, Dr. Munir also emphasises on the impact that this research can have on the advancement of biomedical sciences in the country. Pakistan is a country with numerous skilled engineers and manufacturing facilities. Yet, based on our import and export bill, much of our machinery and equipment is not manufactured on home soil. A high scale ventilator is a complex machine and by manufacturing it in Pakistan, Dr. Munir aims to spur the growth of the biomedical manufacturing industry in the country thus encouraging others to take steps that will lead to additional technological advancement.