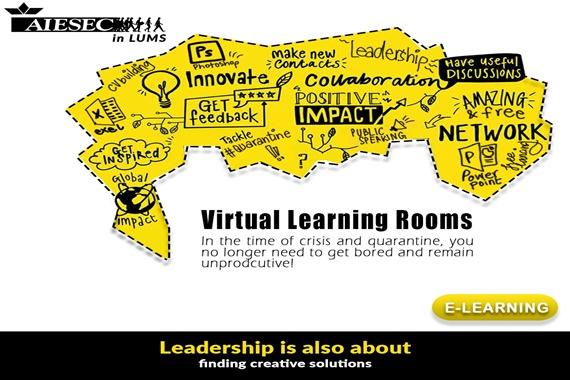 The Coronavirus (COVID-19) pandemic has drastically affected our way of life, with most of the population restricted to their homes to reduce the spread of the virus. In this situation and with the purpose to provide the LUMS Community and people across the country the opportunity to gain vital skills while at home, AIESEC in LUMS has initiated Virtual Learning Rooms.
AIESEC in LUMS is one of the chapters of AIESEC International operating within the University to provide students with the chance to travel abroad and work on either volunteer projects aligned with the United Nation's Sustainable Development Goals or with emerging start-ups. However, due to the current outbreak of COVID-19, the Society has halted its exchange operations for the safety of its members.
The team at AIESEC in LUMS did not want the situation to stop students from connecting with and learning from each other, and decided to launch Virtual Learning Rooms. The initiative saw an overwhelming response, receiving a total of 700+ registrations for the six online sessions conducted during the first week. These sessions focused on some essential hard and soft skills including public speaking, professional email writing, LinkedIn, Photoshop, Microsoft Excel, interview training and resume building.
Ameer Ali, President AIESEC in LUMS, said that the encouraging response from students across the country has motivated them to increase the number and scope of the sessions, "Initially, we had reached out to the student body of LUMS and AIESEC to be part of these sessions and volunteer to teach everyone a skill that they are good at. Now, we hope to reach out to more students and hopefully people from within the industry as well to teach other interesting skills through our platform."
Future sessions will be added to the schedule here. Updates are also posted on the Society's internal Instagram account.
In case you or anyone you know would like to teach a specific skill, you can send an email to aiesec@lums.edu.pk