Wednesday, December 26, 2018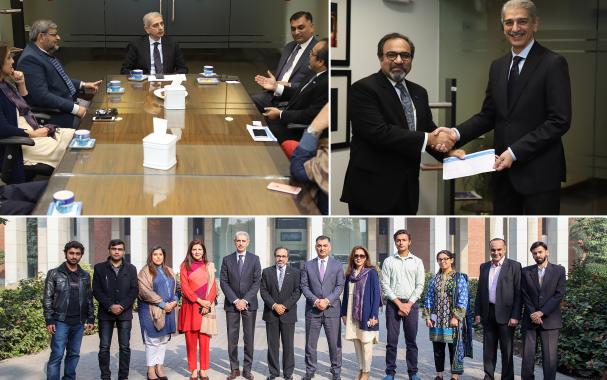 A cheque handing over ceremony between United Bank Limited (UBL) and Lahore University of Management Sciences (LUMS) was arranged by the Office of Advancement, LUMS, on December 24, 2018 at Rausing Executive Development Centre.

The partnership between UBL and LUMS dates back to 2010 and since then, UBL has contributed significantly towards the cause of the National Outreach Programme (NOP) and infrastructural development at the University. Mr. Tauqeer Mazhar, Group Head Branch Banking, led UBL's delegation and was accompanied by Mr. Talat Khurshid Mian, General Manager, Central North, UBL, Ms. Amina Omer, Regional Business Head, UBL and Ms. Eiman Saif, District Manager, UBL. The LUMS side was represented by Mr. Shahid Hussain, Member Managing Committee and Board of Trustees, Dr. Shahid Masud, Acting Vice Chancellor and Dean, Syed Babar Ali School of Science and Engineering (SBASSE) and, Ms. Nuzhat Kamran, Director Advancement and Mr. Zunair Zafar, Chief Financial Officer, Department of Finance.

Mr. Hussain opened the discussion and gave guests an elaborate view of past achievements and future plans of the University. He highlighted significant accomplishments of notable LUMS alumni, explained in detail various research centres, clusters and specialised labs at work within the University and shed light on new initiatives planned to be undertaken by LUMS in the near future.

While talking about recently established departments and schools, he also touched upon the topic of growing requirements of the University in terms of housing and other facilities to be provided to the continuously increasing number of students. The National Outreach Programme and other financial aid initiatives at LUMS were also a part of the discussion during which Mr. Hussain told guests that almost 12% of the students currently enrolled at LUMS have been inducted through the NOP stream and the University continues to work on capacity building and the coaching of these students.

Mr. Mazhar, who also happens to be a LUMS alumnus, from MBA batch of 1989, commended the efforts of the University in transforming the lives of thousands of individuals. He also stated that LUMS is a national institution. He also lauded Pro Chancellor, Syed Babar Ali's untiring endeavours not only in making LUMS a world-class academic institute but in keeping LUMS alumni and external stakeholders engaged and committed to the core cause of the University.

Mr. Mazhar, on behalf of UBL, presented a donation cheque to Mr. Hussain. Mr. Hussain expressed deep gratitude at the occasion and hoped that the partnership between LUMS and UBL will continue to thrive further in the days to come. Syed Babar Ali's autobiography, 'Learning From Others,' was presented to Mr. Mazhar, as a token of appreciation.

UBL delegates were joined by a few beneficiaries of the UBL Scholarship at the official lunch. The scholars introduced themselves, informed guests about their academic progress, discussed future aspirations and sought guidance from the valued guests on how to effectively and efficiently manage challenges within the corporate world.

Post lunch, the guests were given a brief tour of the National Incubation Centre (NIC), where Mr. Faisal Sherjan, Director NIC, introduced the centre, explained its brief history and current working model. The guests also met a few aspiring young entrepreneurs at the Centre and were given a brief demonstration of some ingenious products developed by these creative minds. This ceremony was an excellent opportunity for students to meet industry leaders in the UBL delegation and for the delegation to look at the impact their financial support has had at the University.

LUMS is grateful for UBL's ongoing support to the NOP and looks forward to the strengthening of this valuable partnership.