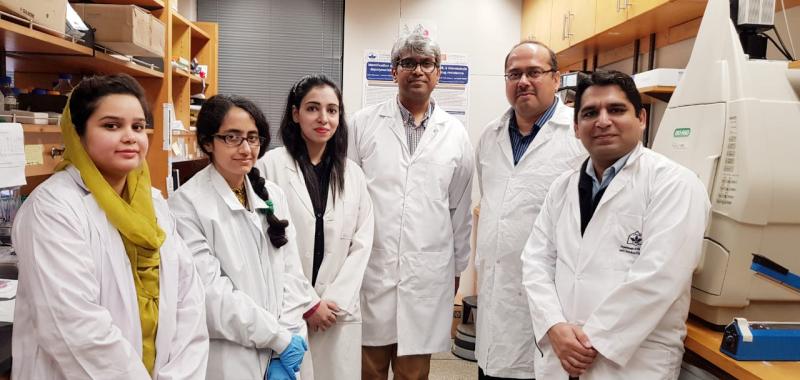 The Syed Babar Ali School of Science and Engineering believes in the concept of "no boundaries" where faculty members from different fields can team up and unearth novel solutions to prevailing scientific questions.
The field of cancer research provided a similar opportunity for the research groups of Dr Rahman Shah Zaib Saleem (Department of Chemistry & Chemical Engineering) and Dr Amir Faisal (Department of Biology). The two groups have been working together in preparing novel organic compounds and evaluating their anticancer potential with a focus on overcoming multidrug resistance (MDR), a major problem limiting the success of cancer therapeutics. In this regards, the team has published their latest article titled, 'Synthesis and evaluation of novel α-substituted chalcones with potent anti-cancer activities and ability to overcome multidrug resistance' in the journal Bioorganic Chemistry.
Chalcones — natural or synthetic compounds with various biological activities — are scaffolds of interest for the team. The modification of their structure through organic synthesis could produce compounds with interesting properties such as anticancer activity with the ability to overcome multidrug resistance. In the current work, the group synthesised a library of alpha-substituted chalcones and evaluated them for their ability to kill the cancer cells. This resulted in the identification of compounds that could kill the colorectal and breast cancer cells at very low concentrations (sub-micromolar GI50 values). The most active compounds stopped the division of cancer cells and had the ability to overcome drug resistance in MDR cancer types.
The research work is part of the PhD research of Ms. Sharon Riaz who said, "MDR is an emerging imperil to chemotherapy. Therefore, it is imperative to design and discover new lead compounds with the potential and ability to overcome MDR."
Dr. Amir Faisal said: "This research is a continuation of our efforts to synthesise and discover anticancer compounds that overcome multidrug resistance, a major challenge to the successful treatment of many types of cancers. This also reflects on the strong ongoing collaboration between our two groups that brings together our expertise for improved scientific output. Our work on chalcones has resulted in three publications in high-quality journals and we aim to continue working together. Research for all these publications was carried out by students (MS and PhD) and research associates in both the labs."
Dr. Rahman Shah Zaib Saleem said: "The drug discovery and cancer research transcends traditional boundaries of the disciplines. SBASSE provides an excellent interdisciplinary environment where the two groups from Chemistry and Biology are working closely to bring novel solutions to on-going challenges."
To articles can be accessed here