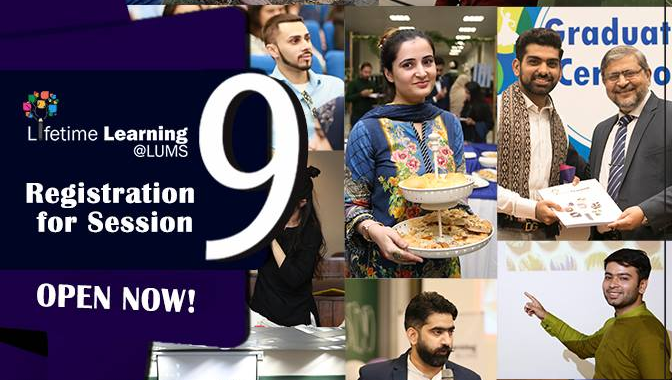 Lifetime Learning @LUMS (LLL) is excited to unveil Session 9, starting on March 20, 2019. Setting the bar high every time, this time around we are back with a host of new academic and interest-based courses finalised after thorough research and careful deliberation.

Some of our participants have already launched their start-ups facilitated by our unparalleled teaching methodology. The participant pool has significantly expanded over the past 8 sessions, and we are looking to immerse more. The following courses are being offered in Session 9, so pick yours and celebrate your passion with us.

• Public Relations and Event Planning by Imtisal Zafar
• Education Management by Salman Shahid
• Content Writing and Editing for Journalism by Nyla Daud
• Advertising 101: Print, Outdoor & Digital by Muhammad Usman
• German Language – Complete A1 by Mobeen Wahla
• Graphic Design by Salman Ahmad
• Basics of Acting by Adeel Hashmi
• Content Marketing and SEO Fundamentals by Usman Latif
• Networks and Cyber Security by Muhammad Suleman
• Introduction to Psychology by Yasser Hashmi
• Design, Clothing & Textile by Sahar Atif
• Basics of English Language by Muzamil Shah
• Interior Design by Khurram Zeeshan
• Filmmaking by Umar Riaz
• Goal Setting and Planning Skills by Madeeha J Khan
• Photography by Belal Khan
• Turkish Language by Recep Kirkil
• Promote your Product on Digital Media by Aimen Iftikhar, Mughees Nawaz & Moiz Ali (Mindshare Pakistan)
• Nutrition & Fitness by Mudeser Ali

Workshops
• Organic Gardening by Zahra Zaidi
• Professional CV Writing and Cover Letter Workshop by Naureen Zaman

It is advised to register at the earliest as slots are limited and fill up fast.
To Register, visit our website here.
Starting Date: March 20, 2019
In case of any queries, you can contact us at +92 300-8496861 or visit our webiste here.
Accommodation facility is also available!