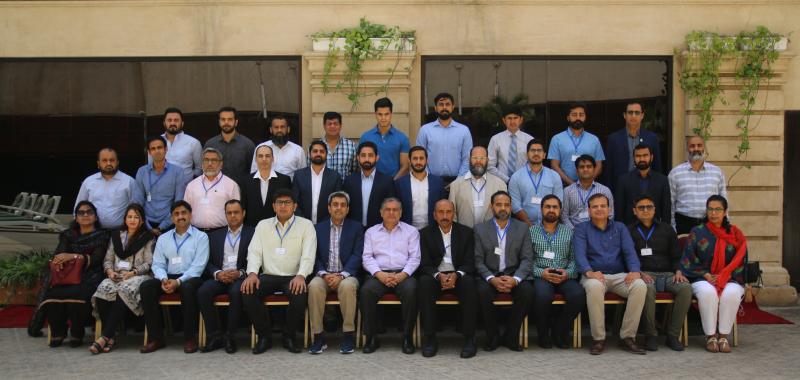 Keeping in view the critical need of developing negotiation skills in executives, the Rausing Executive Development Centre (REDC) organised a dynamically designed 4-day programme on the subject from April 23-26, 2019. The aim of the programme was to manage the complexity of business situations and make effective decisions, and teaching executives to negotiate at multiple levels, resolve conflicts and learn how to shape agreements and informal understandings that have substantial impact on a company's profitability.
To cater to market demand, the programme was successfully held in Karachi, led by programme directors Dr. Arif N. Butt, Dr. Abdur Rahman Malik and supported in teaching by Dr. Anwar Khurshid. The experiential programme provided an understanding on how negotiating strategies are planned and implemented to gain a competitive edge and maximise profits. The programme emphasised on negotiation frameworks: how to add value to a deal, negotiation mindsets: distributive and integrative negotiation, inter-organisational and intra-organisational conflicts, leading teams in conflicts, negotiation: the social fabric, personality and the negotiation process.
Participation from more than 20 well-known organisations from various industry sectors and business backgrounds boosted the learning experience. Real-time scenarios through simulated, interactive discussions added an exciting learning experience to the programme.
Musharraf A. Waheed, Manager Petroleum Engineering (GHPL) said: "Learned and experienced faculty, and the case study method to simulate scenarios was an amazing idea. The session gave insight to the fundamentals of the negotiation process and how to behave in certain situations. Participation of people from different groups with varied experiences made the course more interesting."
Umer Imran Khan, Senior Executive at CyberNet, added: "Case studies were very incremental to current intellectual knowledge base and ability. The instructors and the programmes material further enhanced understanding of negotiation fundamentals."
The programme was highly appreciated and participants commended the effort, remarkable faculty and overall experience provided by REDC.