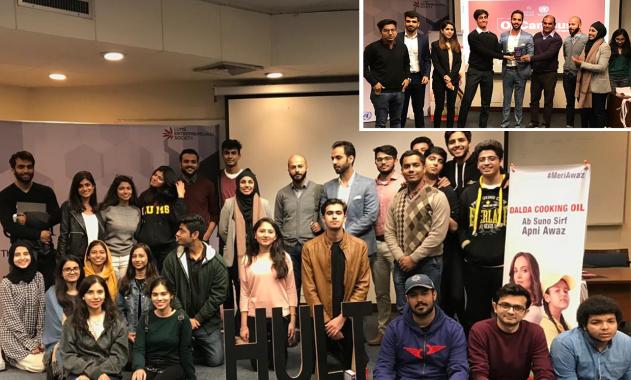 LUMS Entrepreneurial Society (LES) is the LUMS business society, which aims to refine leadership, managerial, and organisational skills across the board, by providing distinguished platforms and opportunities for young entrepreneurs and leaders to manifest their ideas. Out of many projects and events that LES does, it has recently collaborated with Hult Prize to step up towards taking another initiative for creating futures and building societies.

The main idea behind bringing Hult Prize to LUMS was its potential of social entrepreneurship. Aware of the fact that current businesses, especially in Pakistan, need to revamp their conduct to be socially sustainable, LES is working to solve this by reaching out to aspiring young leaders and innovators within LUMS to help create a lasting and positive social impact on the society.

To do so, LES held its campus drive at LUMS on Saturday, December 1, 2018 which included setting up a stall where students were introduced to Hult Prize and their queries were answered. It was a one-day event where teams had to compete with their business ideas. Hence, the event was advertised in mid-October for the participating teams to register. As a result, a total of 14 teams registered for the competition. Each of them had to solve a case provided by the United Nations (UN) and Hult Business School, which introduced the students to the issue of unemployment. The teams had to come up with innovative, efficient and practical solutions to tackle the problem.
The teams presented their ideas in front of a panel of judges, including Mariyam Mohiuddin, Founder, Social Innovation Lab and Zain Ashraf, CEO, Seed Out. The LUMS winning team, Rozgaar, including students from the class of 2019, Abdul Ghaffar, Talha Saeed, and Salman Munaf and Maryam Rasheed from the class of 2020. The team presented the idea of creating an approachable platform where the informal sector could be connected to the people looking for employment in that sector. Team Rozgaar has qualified for the regionals.

Sponsored by Hult Business School, Hult Prize is a platform to launch startups emerging from universities across the world consisting of over 2,500 staff and volunteers. These startups are for-profit but also fit the criteria of social entrepreneurship striving to create a positive impact. For nearly a decade, Hult Prize has been able to utilise $50 million in this sector and more than a million young people have been mobilised into reimagining the future of businesses in the context of social entrepreneurship.
Every year, Hult Prize Central launches an application for students to apply to bring Hult Prize to their campuses, and after a rigorous selection process, Hult Prize selects campuses from all around the globe, where the Hult Prize On-campus Programme takes place. This was the first time that the students from LUMS applied for this competition and successfully, got selected. LUMS wishes them all the best for future rounds and hopes that the team brings home $1,000,000 to set up their startup that addresses youth unemployment and makes an impact that lasts long.