Thursday, December 13, 2018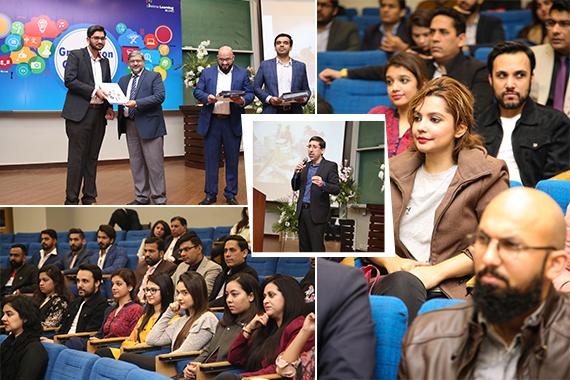 It was an amazing day to celebrate the pursuit of passions when the graduates of the seventh session of Lifetime Learning @LUMS (LLL) participated in the much-anticipated Graduation Ceremony. The event that took place on Saturday, December 8, 2018 marked the closing of a yet another remarkable session.

Divided into two slots, the Ceremony commenced with the National Anthem following which the LLL Team welcomed the audience and congratulated the graduating participants on their worthy achievement.

LUMS Dean of Syed Babar Ali School of Science and Engineering (SBASSE), Professor, Dr. Shahid Masud was the Guest of Honour on the occasion. Dr. Masud congratulated and motivated the graduating participants through his insightful words and encouraged them to never stop learning.

The event was presided over by the Master of Ceremony, Lifetime Learning mentor and faculty, and a prominent media personality, Mr. Adeel Hashmi. Mr. Hashmi delivered a moving speech calling for a mindset change regarding education and the subsequent process of evolution.

Successively, a short video giving a glimpse into the extraordinary LLL journey was played for the audience. The participants of Event Management also exhibited an exciting video showing their experience with LLL, which was thoroughly appreciated by the audience.

This was followed by the distribution of certificates to all the Session 7 graduates, and acknowledgement of the hard work put in by the team of Lifetime Learning @LUMS. After the certificate distribution, all attendees enjoyed a scrumptious hi-tea while networking with their graduating batch and instructors.

LLL Session 7 offered 20 exciting academic and interest-based courses with more than 500 participants enrolled in them. On the occasion, there was an art gallery comprising of some interior design, and graphic design projects displayed by the participants. The showstopper, however, was the Artisan Baking stall thronged by everyone.

The registrations are now open for Session 8. For enrolment, click here.