Wednesday, September 11, 2019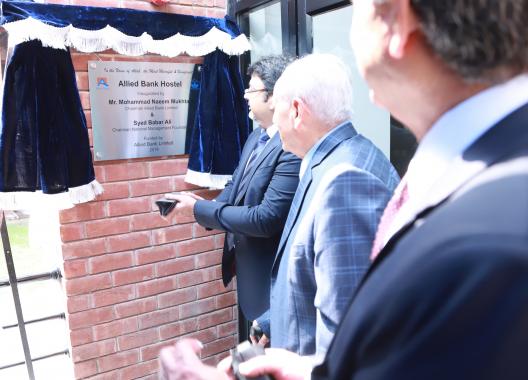 The Allied Bank Limited (ABL) senior management visited LUMS on September 3, 2019 to inaugurate the Allied Bank Hostel, the largest male hostel comprising 222 rooms, accommodating over 400 students, marking another generous donation by the bank. The hostel is a state-of-the-art facility that adds to the outstanding infrastructure of the University.
Chairman ABL, Mr. Mohammed Naeem Mukhtar inaugurated the Allied Bank Hostel, in the presence of the ABL team as well as LUMS leadership including Syed Babar Ali, Founding Pro Chancellor LUMS and Dr. Arshad Ahmad, Vice Chancellor LUMS.
Mr. Mukhtar formally unveiled the plaque at the hostel and a small tour was also given to the guests to show them the facilities inside the hostel.
ABL is a long-standing partner of LUMS—the bank's Chairman, Mr. Mohammad Naeem Mukhtar is a member of the Board of Governors at the University and the bank has contributed generously towards the University's infrastructure since 1994.
Addressing the gathering, Syed Babar Ali spoke about the merits of LUMS graduates and the research excellence of the faculty members. He said, "At LUMS, we are encouraging men and women to think outside the box and to embark on journeys that they've never been on before."
Allied Bank's pledge to serve LUMS and its community reflects in the past donations that have been made. LUMS Vice Chancellor, Dr. Arshad Ahmad thanked the ABL management and said, "We take this opportunity to acknowledge the generous contributions of Allied Bank and congratulate you for your stewardship as a role model for corporate social responsibility that has stood the test of time."
He appreciated the ABL management for their enduring support and indulged in discussions over various other pathways that will strengthen the LUMS-ABL relationship including scholarships for students, industry placements and enhancing the overall infrastructure of the University.
"We have been able to achieve our goals because of the generosity of friends like yourself and we will continue to seek partnerships that aspire to invest in 21st century education. We want to bring out the best in our students to thrive in this age of digitisation and disruption. This transformation takes place for students who come to LUMS from every corner of Pakistan, where one out of three receive financial support," added Dr. Arshad.
The ABL leadership also inaugurated the bank's first self-service branch on campus that would allow LUMS students to conduct banking independently through a wide array of services. Designed to provide automated banking services at the campus and a variety of banking transactions, ABL's self-service branch allows customers to conduct banking independently through various digital touchpoints and provides a variety of services, such as the facility to instantly open accounts and immediately get personalised debit cards, self-service transactions including cash and cheque deposit, funds transfer, LUMS fee payment, statement printing and account information update requests.