Saturday, April 11, 2020 - 4:00pm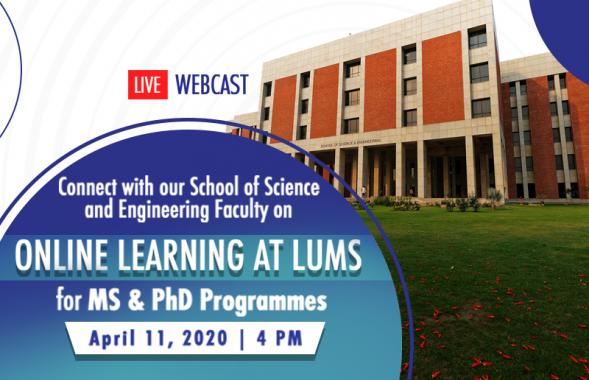 Connect with LUMS School of Science and Engineering faculty on 'Online Learning at LUMS' for MS and PhD Programmes via a Facebook Live session.
The webcast will answer all your queries about the new way of learning at LUMS, what to expect from Online Learning and how you can become a part of it. In addition, the faculty will also address your concerns about successfully completing your application with regards to the current situation.
Joining the high-powered 30 minutes session will be Dr. Basit Shafiq, Associate Professor, Department of Computer Science; Dr. Haniya Azam, Assistant Professor, Department of Mathematics, and Dr. Rahman Shah Zaib Saleem, Associate Professor, Department Of Chemistry and Chemical Engineering.
You may submit your questions at LUMS official accounts on Facebook, Twitter, LinkedIn and Instagram at run time and get them answered live during the webcast.
Date: Saturday, April 11, 2020
Time: 4:00 pm
To tune into our Webcast, simply visit our Facebook page and YouTube channel.
Don't forget to tune in!