Monday, April 27, 2020 - 4:00pm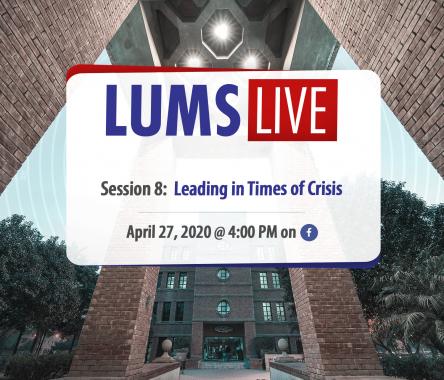 As trends and practices shift with the global pandemic, the need for leaders to navigate in these unprecedented times is critical. Does COVID-19 require a different set of leadership skills? Has it fundamentally changed your core business? How does one inspire a transition to work productively from home? What aspects of employee health and safety are safeguarded by the firm?
We invite you to join us for the eighth session of LUMS Live, where we will discuss how great leaders undertake challenges while providing support to their communities, who look up to them for answers. Led by the Vice Chancellor, Dr. Arshad Ahmad, our distinguished panellists for this session will be Mr. Samar Hayat, CEO, Tapal Tea (Pvt.) Ltd., Mr. Inam ur Rahman, CEO, Dawood Hercules Corporation and Mr. Haroon Rashid, CEO, Shell Pakistan Ltd.
Date: Monday, April 27, 2020
Time: 4:00 pm
The session will be moderated by Mr. Adeel Hashmi and broadcast live via the LUMS Facebook page.

During the session, please use the live stream's comments bar to ask questions or email your questions to ask@lums.edu.pk. After the session, please give us your feedback and suggest topics/guests for future discussion at this link.
Profiles of Panelists
Dr. Arshad Ahmad - Vice Chancellor, LUMS
Prior to his current role as Vice Chancellor, LUMS, Dr. Arshad Ahmad served as Vice Provost, Teaching and Learning, and Director of the MacPherson Institute at McMaster University in Canada. Dr. Ahmad completed his MBA and subsequently PhD in Psychology at McGill University, won a lifetime 3M National Teaching Fellowship in 1992 and was a professor of finance at Concordia and McMaster Universities. His research interests are in student evaluations of teaching, approaches to teaching, teaching philosophies and student partnerships.
Mr. Haroon Rashid – CEO, Shell Pakistan Ltd.
Mr. Haroon Rashid is the Chief Executive and Managing Director of Shell Pakistan Limited (SPL). He has been a Director on the Board of SPL since 2011. He is also the General Manager Lubricants for SPL. He joined SPL in 1995 and has held several senior leadership roles in Downstream across Marketing, Consultancy and Aviation for Royal Dutch Shell before returning to Pakistan as the General Manager Supply and Distribution for the Middle East South Asia Region. Mr. Rashid is a graduate of INSEAD and LUMS.
Mr. Samar Hayat – CEO, Tapal Tea (Pvt.) Ltd.
Mr. Samar Hayat is the Chief Executive Officer of Tapal Tea (Pvt.) Ltd. and is leading Pakistan's largest Tea company to consecutive years of extraordinary growth despite Pakistan's tough macro environment. Prior to joining Tapal, Mr. Hayat spent 20 years with Procter & Gamble based in Saudi Arabia, Switzerland and Dubai leading giant global brands such as Pampers, Gillette, Head & Shoulders and Pantene for the Middle East, Africa, India and Pakistan region.
Mr. Inam ur Rahman – CEO, Dawood Hercules Corporation
Mr. Inam ur Rahman was appointed CEO of the Dawood Hercules Group's parent investment company, Dawood Hercules Corporation, in 2016. He currently serves in corporate governance roles across various public-listed firms associated with the group. He brings more than 27 years of experience across diversified industries including energy and renewables, education, enterprise technology, foods, textiles, fashion and apparel, lifestyle, and business consulting. An environmentalist at heart, Mr. Rahman launched Reon Energy, an enterprise solar power EPC, and continues to serve as Chief Executive of Tenaga Generasi Limited, a 50 megawatt wind power plant. He holds an MBA from LUMS, in addition to an engineering degree from UET Lahore.