Monday, April 13, 2020 - 4:00pm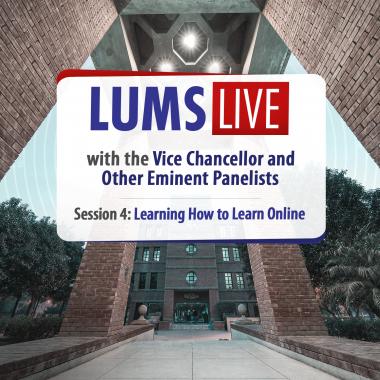 Million of students worldwide have had their education disrupted by the spread of COVID-19 – this is a scenario that could never have been anticipated. In the last three weeks, schools and universities across Pakistan have had to step up by offering online teaching to ensure that learning outcomes are achieved without wastage of time. At LUMS, the University's newly established Learning Institute is playing a critical role in building online teaching capacity in different programmes.
We would like you to join us for the fourth session of LUMS Live, Learning How to Learn Online, led by the Vice Chancellor, Dr. Arshad Ahmad. During this session, our distinguished panelists, Dr. Arshad Ahmad, Dr. Suleman Shahid, Dr. Launa Gauthier, and Dr. Muhammad Faryad will discuss and answer how we have the ability to continue education and face the unknown with hope, courage and coming together. The session will be moderated by Mr. Adeel Hashmi and broadcast live via the LUMS Facebook page.
Date: Monday, April 13, 2020
Time: 4:00 pm
Join us by logging on to our Facebook page. During the session, you can use the comments bar to ask questions or email your question to ask@lums.edu.pk. After the session, you can give us your feedback and suggest future topics for discussion/guests by visiting this link.
Profiles of Panelists
Dr. Arshad Ahmad – Vice Chancellor, LUMS
Prior to his current role as Vice Chancellor, LUMS, Dr. Arshad Ahmad served as Vice Provost, Teaching and Learning, and Director of the MacPherson Institute at McMaster University in Canada. Dr. Ahmad completed his MBA and subsequently PhD in Psychology at McGill University, won a lifetime 3M National Teaching Fellowship in 1992 and was a professor of finance at Concordia and McMaster Universities. His research interests are in student evaluations of teaching, approaches to teaching, teaching philosophies and student partnerships.
Dr. Suleman Shahid – Assistant Professor, Department of Computer Science, Syed Babar Ali School of Science and Engineering and Director, LUMS Learning Institute
Dr. Suleman Shahid's research focuses on the intersection of design, technology and well-being with applications to assistive technologies to enhance the quality of life of persons with disabilities, and persons with mental health conditions, learning technologies for children (child-computer interaction) and human computer interaction for development (HCI4D/ICT4D).
Since 2009, he has been offering consultancy and training services in the areas of service design and user experience (UX) design and strategy. Dr. Shahid received his PhD in human-computer interaction in 2011 from Tilburg University, the Netherlands and PDEng (Professional Doctorate in Engineering) in 2007 in the User System Interaction Programme from Eindhoven University of Technology, the Netherlands.
Dr. Launa Gauthier – Associate Director, LUMS Learning Institute
Dr. Launa Gauthier also teaches a pedagogy course in the MPhil programme at the School of Education at LUMS. At the Learning Institute, she is developing and co-leading with faculty, two major programmes for faculty development and student-faculty pedagogical partnerships. Dr. Gauthier holds a PhD in Education from Queen's University in Canada and a Masters in Adult Education/Lifelong learning. She has taught and consulted on strategic educational projects in K-12 and higher education contexts over the past 15 years in Canada, Korea, China, Germany, the West Indies, and most recently Pakistan.
Dr. Muhammad Faryad – Assistant Professor and Chair, Department Of Physics, Syed Babar Ali School of Science and Engineering
Dr. Muhammad Faryad's research work focuses on the interaction of light with modern metamaterials and complex materials. He has authored and co-authored more than one hundred journal and proceeding articles, a book chapter, and a book. Dr. Faryad is the founding faculty advisor of the SPIE chapter at LUMS. He was awarded the Gallieno Denardo award by the Abdus Salam International Center of Theoretical Physics and the International Commission on Optics in 2019 for his contributions towards research, education, and outreach in optics.