Friday, March 20, 2020 - 9:00am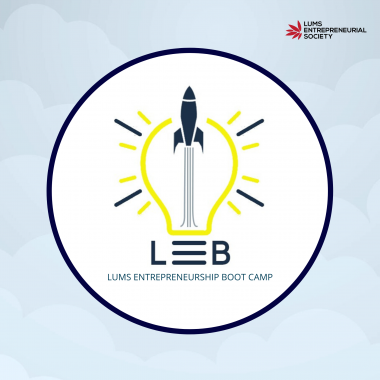 The LUMS Entrepreneurship Boot Camp (LEB) provides an excellent opportunity for individuals and teams looking for learning and growth to set up their businesses with the help of new expertise and knowledge.
The LEB's core aim is inculcating a drive for innovation, collaboration and mentorship among the participants. Participants will be encouraged to network with investors and business experts on the panel, familiarise themselves with the business landscape of Pakistan, gain support in refining the ideas that they have developed, and finally gain investment. Thereby, participants will also gain skills to assess their financial needs and prospects and equip them with a clear vision and step-by-step methodology of how to start a business.
Moreover, the event will not only have a large panel of successful entrepreneurs and mentors who will conduct talks and sessions with the participants, but also numerous workshops that cover what is required for a successful entrepreneurial venture. By providing a framework for the participants, the camp will leave them with a more streamlined approach to ensuring accountability and scalability of their business.
Date: March 20–23, 2020
Venue: LUMS
LUMS Entrepreneurial Society having developed an emphasis for the need for social sustainability in business environments, will continue its efforts to promote sustainable use of resources by focusing on seed funding for social entrepreneurship startups among other initiatives.
This event is designed for all those with a passion for entrepreneurship and a rigour for learning.
Don't miss your chance to attend the second edition of LUMS Entrepreneurship Boot Camp and register here