Sunday, January 20, 2019 - 11:00am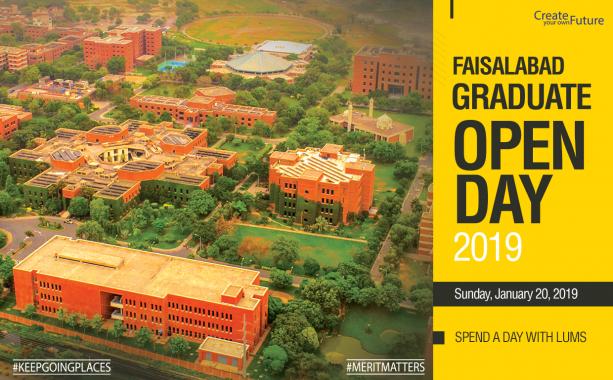 If you are planning to apply to the LUMS Graduate Programmes, don't miss out on our Faisalabad Graduate Open Day 2019 where you will get all the information you need to apply to our graduate programmes.
Date: Sunday, January 20, 2019
Time: 11:00 am
Venue: Serena Hotel, Faisalabad
Get to know about the Suleman Dawood School of Business(SDSB) MBA and Executive MBA programme, the Syed Babar Ali School of Science and Engineering (SBASSE) MS and PhD programmes, and Syed Ahsan Ali and Syed Maratib Ali School of Education (SOE) MPhil in Education Leadership and Management programme.
The day will entail seminars curated to specific programmes available at LUMS by our esteemed faculty and speed networking sessions. This Open Day will be a great chance for you to interact with relevant faculty and programme alumni.
Admission representatives from the University will also be present at the event to answer all the questions that you might have about the admission process and financial support. Your queries about accommodation and life at LUMS will also be addressed.
To attend Faisalabad Graduate Open Day, please register here!
SCHEDULE

Venue: Serena Hotel, Faisalabad

TIME

PROGRAMME SESSION

11:00 am - 12:00 noon
Registration
12:00 noon - 01:00 pm
MBA - Suleman Dawood School of Business (SDSB)
02:00 pm - 03:00 pm
EMBA - Suleman Dawood School of Business (SDSB)
03:00 pm - 04:30 pm
MS & PhD - Syed Babar Ali School of Science and Engineering (SBASSE)
04:30 pm - 05:30 pm
MPhil - Syed Ahsan Ali and Syed Maratib Ali School of Education (SOE)