Friday, February 15, 2019 - 5:00pm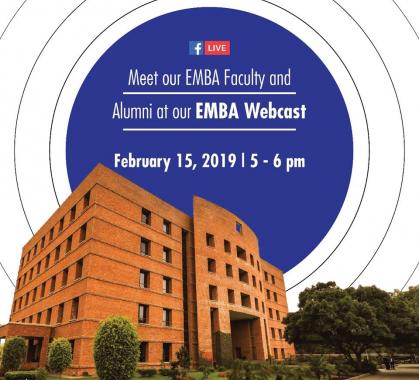 Let's meet online! Connect with us from anywhere in the country for our EMBA Webcast 2019 and accelerate your career growth.
LUMS Executive MBA Programme Faculty, Dr. Omair Haroon will be with you online for a high powered one-hour session to take you through the best executive education experience, in the region, offered by LUMS. This is your chance to explore the Programme, structured to support working professionals to help them move their career forward without interruption.
Dr. Haroon and EMBA alumni will also take live questions through social media and answer all queries ranging from programmes to tests, and from admissions to financial support. You may submit your queries at LUMS Facebook, Twitter, LinkedIn and Instagram at run time.
To tune into our Webcast, simply visit our Facebook page and YouTube channel.
Date: Friday, February 15, 2019
Time: 5:00 pm – 6:00 pm (PST)
Register for the webcast here.
Come join us for an exciting online LUMS experience.